Coast Label Company is proud to be a 3M™ Select Converter. We have received this distinction for both the specific product training that our manufacturing and sales personnel have completed, combined with the large volume of 3M™ materials we convert each year. These materials include:
3M™ VHB™ Tapes
3M™ Diamond Grade™ DG3 Reflective Sheeting Series 4000
3M™ Adhesive Transfer Tapes
3M™ Roll Label Materials
3M™ Thermal Transfer Label Materials
3M™ Removable Label Materials
3M™ Tamper Evident Label Materials
3M™ Overlaminate Label Materials

As you can see, 3M™ is known worldwide not just for the Post-It® and Scotch® brands, but also for their expertise in high-performance label materials and adhesives. What follows below are some quick looks at what we can make using 3M™ materials and product offerings as part of our 3M™ Select Converter status.
3M™ VHB™ is a high performance closed cell foam tape that replaces mechanical fasteners, rivets, bolts, screws, and welds.
At Coast Label we are able to custom die-cut and finish 3M™ VHB™ tapes into easy to use rolls. Part of our special process adds an additional liner to the 3M™ VHB™ for easier handling, removal, and application. Parts can be generic shapes or customized to fit unusual or tight-fitting spaces.
Replaces:
Rivets
Welds
Screws
Bolts
and other mechanical fasteners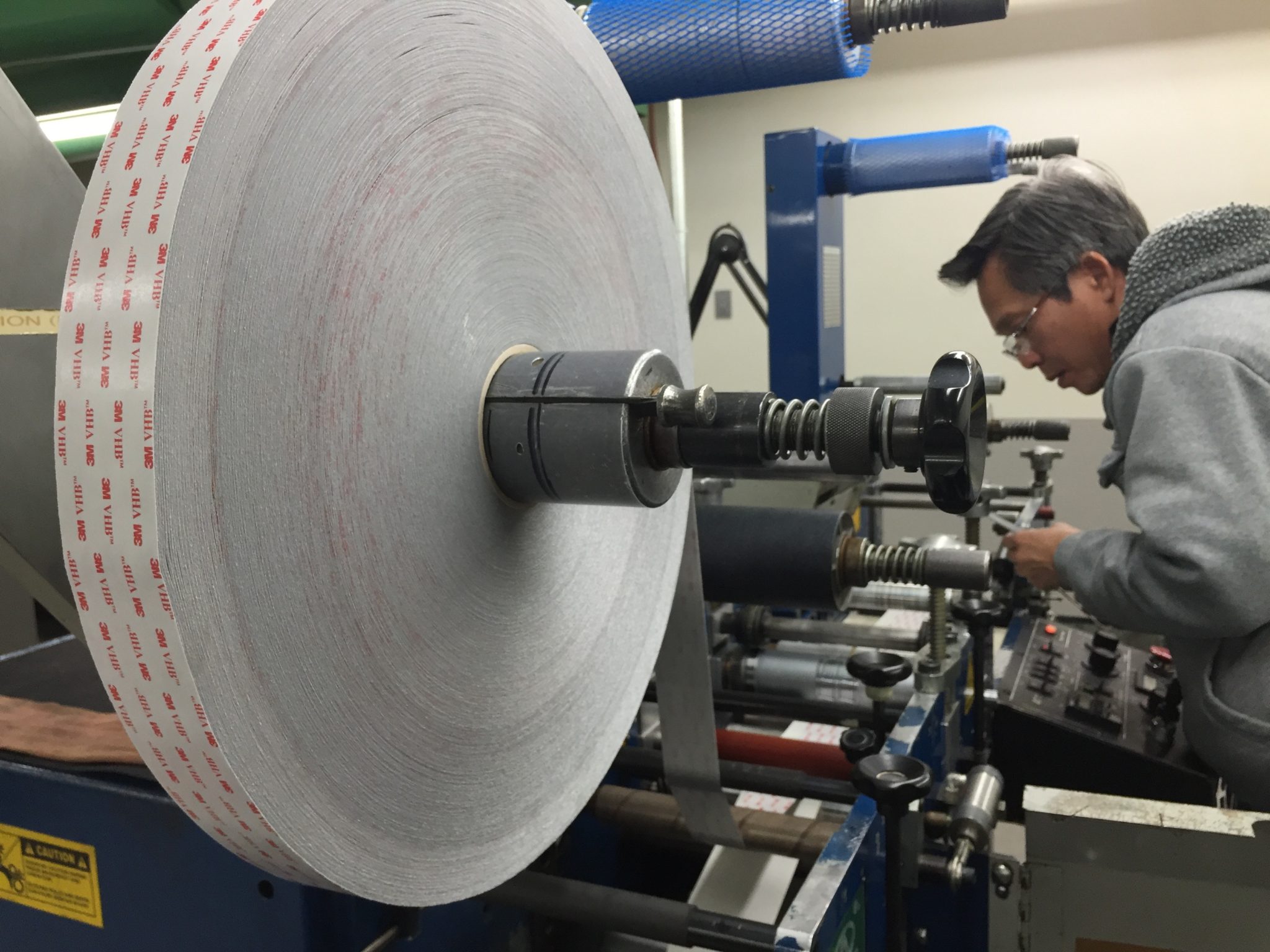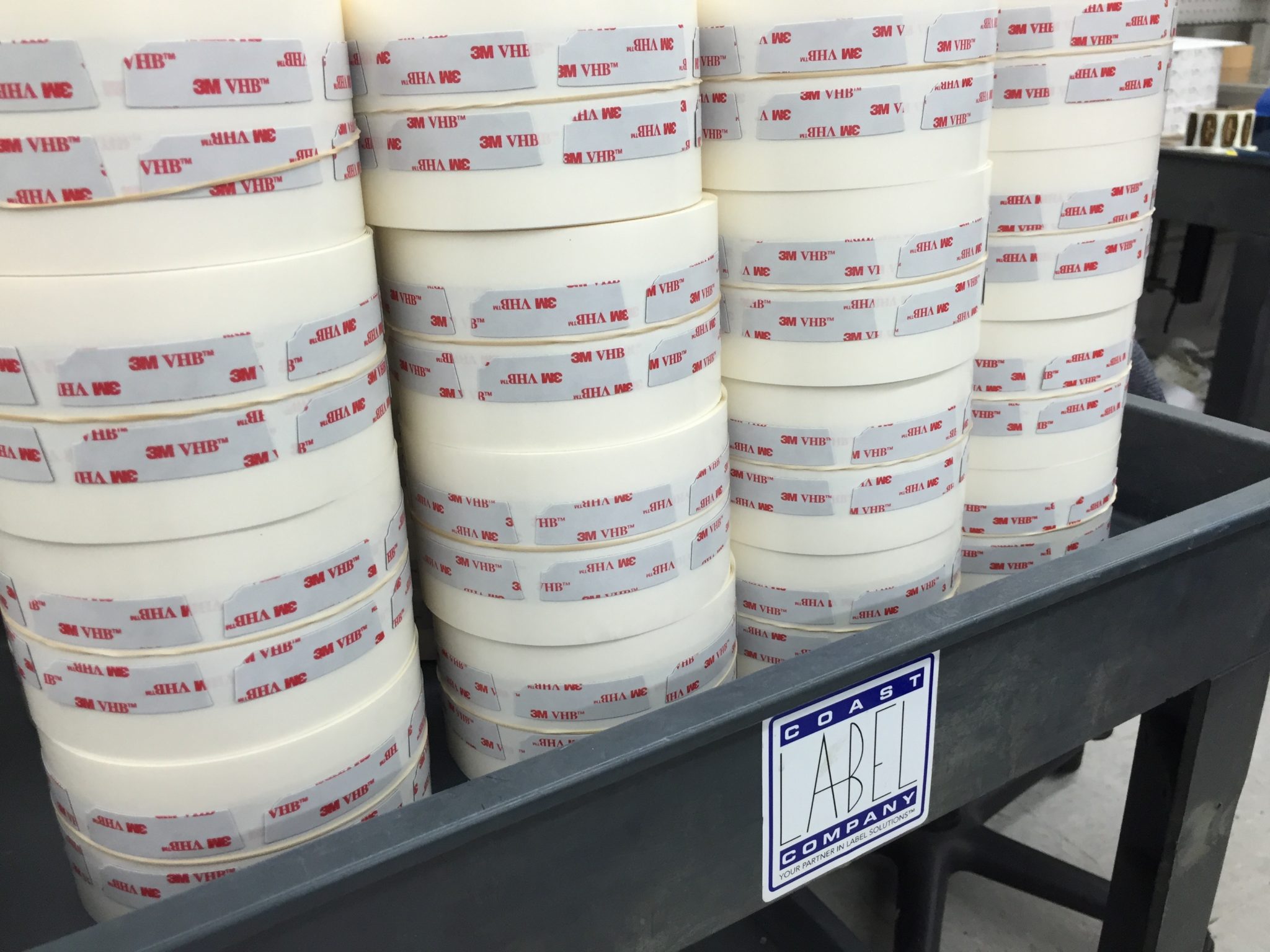 3M™ TRANSFER TAPE ADHESIVES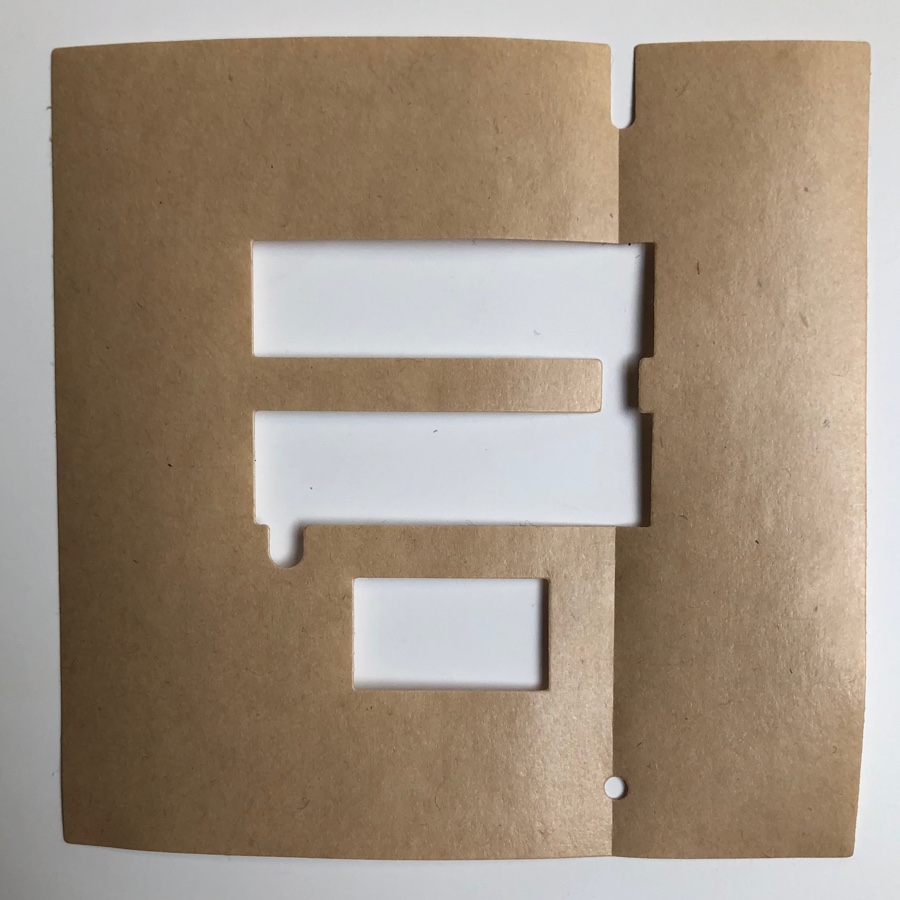 Another type of double sided tape, 3M™ Transfer Tape Adhesives allow you to apply a very thin layer of adhesive (1 mil to 5 mils thick) in a clean, controlled, and repeatable manner
Perfect for parts and assemblies that have very tight tolerances, we are able to custom die cut transfer tape adhesives to give you repeatable performance you can rely on. And just as with our 3M™ VHB™ parts, we add an additional liner to adhesive to provide shape stability and as well as easier handling and application.
Our team can work with you to select the adhesives that meet your need, with options from industrial acrylics to high temperature adhesives that meet NASA guidelines for low outgassing material for spacecraft to everything in between.  And when it comes time to manufacture, we start by using precision machined tooling with exacting cavity tolerances to ensure that no matter your shape or size, you get repeatable results.
Utilizing 3M™ transfer tapes such as 467MP or 468MP, we can build complete durable graphic overlays or individual parts. Our process involves a digitally-guided plotter cutter which saves you tooling costs, and allows for non-standard and unique shapes.
Depending on material configurations, we can achieve up to 10 years color-fastness for demanding outdoor applications. And with variable printing such as barcodes, consecutive numbers, and/or 2D barcodes you can uniquely identify every part in the field.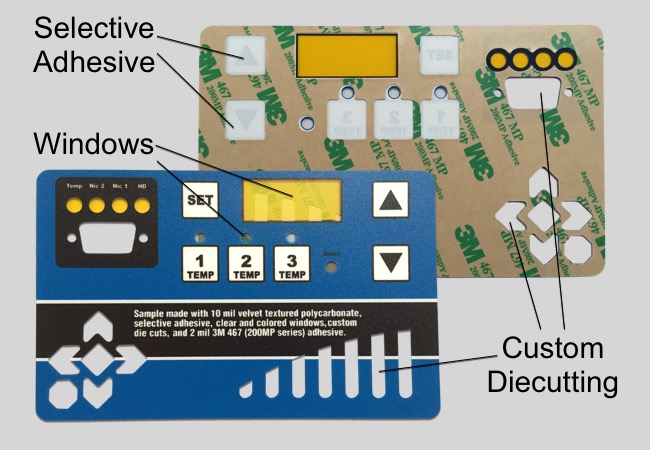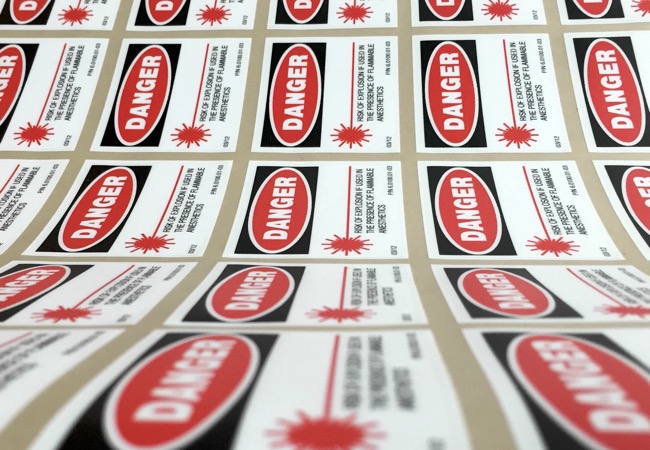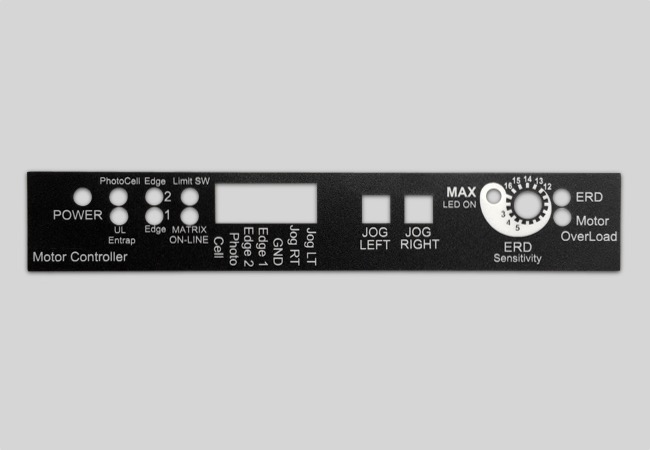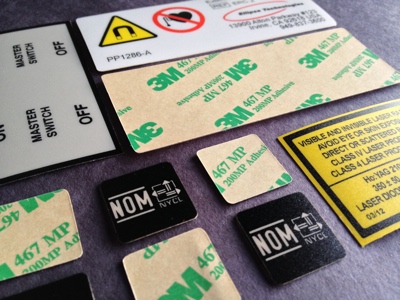 Applications:
Warning symbols
UV outdoor labels
Logo / Product Identification
Materials:
3M™ label materials are the go-to when you need a durable solution in a challenging environment. 
Long a leader in adhesive performance, 3M™ labels can be configured and converted to withstand the withering cold, harsh sun, while sticking to difficult surfaces. With a wide range of base materials available, we will work with you to design labels that will succeed in almost any environment.
3M™ labels can also be configured with an anti-microbial layer. This ultra-clear polyester overlaminate uses a hard-coating in combination with any of the 3M™ base materials to create an anti-microbial label that is up to the task.
Using special 3M™ materials we are able to make a wide range of security products. Our range of tamper-evident labels are designed to help companies prevent fraud, counterfeiting, and brand theft. There are also many commercial and industrial uses such as indicating that an equipment enclosure have been accessed by unauthorized persons.
3M™ Void Polyesters leave behind a distinct pattern on the application, all the while rending the label non-transferable. Available in a range of colors as well as patterns such a triangles.
Another popular security option involves 3M's Destructible Vinyl. This material is conformable and weather resistant, but will fracture and destruct upon attempt to remove from the application surface.