CUSTOM CONSECUTIVE NUMBER LABELS
Custom Consecutive Number Label Uses
Custom consecutive number labels are used for a variety of applications. These applications include inventory tracking, shelf numbering, supply coding, and any other applications that require unique alpha, numeric, or alphanumeric sequences.
At Coast Label we have a wide variety of materials and adhesives available depending upon your label life cycle needs. Whether your application requires a label for short-term use or an extremely durable label for long-term durability, we'll consult with you to provide you with the best label for your specific needs.
Looking for more? Here is a quick case study: Serial Numbered Warranty Seal.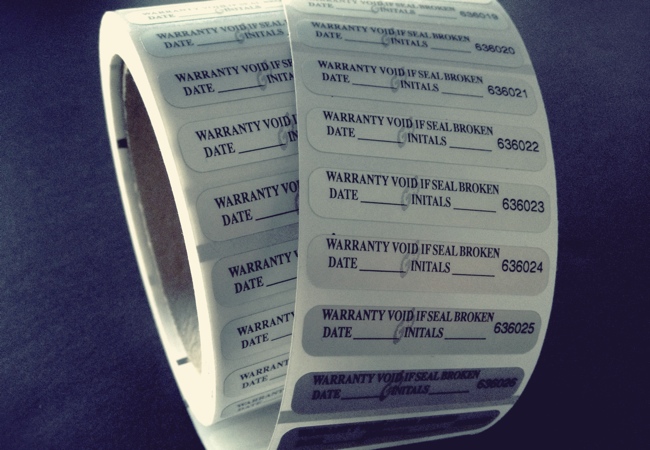 Custom Consecutive Number Labels
With our specialized equipment and one-on-one design process, Coast Label can help you engineer the perfect custom consecutive number labels for your business. Here are some of the ways you can customize your consecutive number tags, labels, and stickers:            
Color: Whether for color coding or brand identification, color plays an important role in your consecutive number stickers. Color can grab someone's attention or help them quickly sort packages and goods. Using the Pantone color matching system, we can match just about any color for your custom consecutive number labels. 
Sizes: Standard sizes work fine when they happen to work for you. But for all the times you need a custom size, standard sizes just won't cut it. At Coast Label, you customize your consecutive number stickers to almost any size you need. 
Shapes: Between our vast collection of cutting die and our special plotter cutter machine, we can manufacture custom sequential numbered labels in just about any shape you need. We can even manufacture custom consecutive number labels with cutouts to fit tight tolerances.  
Indoor Uses
Custom consecutive number labels are highly useful, with many indoor applications.  Here are some of the most common uses of consecutive number tags and labels:
Warehouse inventory tracking: Managing warehouse inventory requires a lot of planning and organization. Easily keep track of warehouse inventory with consecutive number stickers. 
Medical inventory: From the pharmacy to the clinic, medical inventory requires extra special care. The wrong medication or treatment can put patients in harm's way. Custom sequential number stickers help you identify and track medical inventory to prevent dangerous mixups.  
Shelf numbering: In a large warehouse, finding inventory can be difficult. Use custom sequential numbered labels to label shelves for easier locating of inventory. 
Inventory reordering: Consecutive number stickers can be used to indicate when it's time to reorder a product.
Outdoor Uses
Outdoor labels need to be durable to resist heat, cold, UV light, and exposure to water. Our outdoor consecutive number tags and stickers can be made from a variety of extra-durable materials. Here are some of the outdoor uses of consecutive number tags:
Equipment tracking: Consecutive number stickers help you easily identify and track equipment. Typical labels peel and fade with outdoor exposure, but our custom outdoor consecutive number labels can last through the most extreme conditions. 
Parking permits: Custom sequential numbered labels allow you to easily assign parking permits to students, employees, or residents.  
Automotive parts labels: Automotive labels have to be durable enough to withstand outdoor conditions as well as exposure to certain chemicals. Consecutive number tags can be used to quickly identify specific automotive parts to avoid mistakes. 
Equipment rental: Whether you're renting out lawnmowers or kayaks, custom consecutive number labels help you track and identify your equipment to ensure its return.

Benefits of Custom Consecutive Number Labels
Custom sequential numbered labels are versatile and can be used in a number of ways. They come with a number of benefits, including:
Easy identification: With unique consecutive numbers for each tag, it's easy to identify equipment, parts, shelf locations, and more.
Asset tracking: Keeping track of your assets is essential to your daily operations. Consecutive number tags and labels help you prevent the loss or theft of assets such as laptops, tablets, and other movable assets.
Increased efficiency: Consecutive number stickers help you organize and locate inventory for streamlined inventory counts, picking, shipping, and more. 
Pair with barcode labels: Custom consecutive number labels can be paired with barcode labels for near-instant identification. 
Easy analytics: Consecutive number labels can help you quickly gather analytics about a product, such as the number of items that have been sold. 
A lot of what we do is custom labels. Coast Label is unique in the label industry and they are my go-to place. They offer quick response and I am able to talk with a knowledgeable label representative every time I call. With the big companies you get automated systems. By the time you put in a quote request and get anything back I could have gone to Coast Label and already gotten delivery of the product.
David Lloyd

Pickwick Paper Products