CUSTOM TAMPER PROOF STICKERS & TAMPER EVIDENT LABELS
What are Custom Tamper Proof Stickers & Tamper Evident Labels?
Custom tamper proof stickers and labels are a category of security products designed to indicate or prevent lifting and removal. Use cases include:
Prevent a price tag from being moved from one product to another
Sealing a cabinet or equipment enclosure so that you know when it's been opened by a non-authorized technician
Stopping calibration/quality control labels on machinery from being lifted and transferred
Depending on your preferences, some of these security features are visible in the design of the label, while others are more covert–only becoming evident after attempts at tampering. We offer many tamper-evident solutions including:
Self-voiding labels
Labels made from destructible vinyl, which cannot be removed or transferred to another location intact
Special die-cutting and destruct slits to make intact removal impossible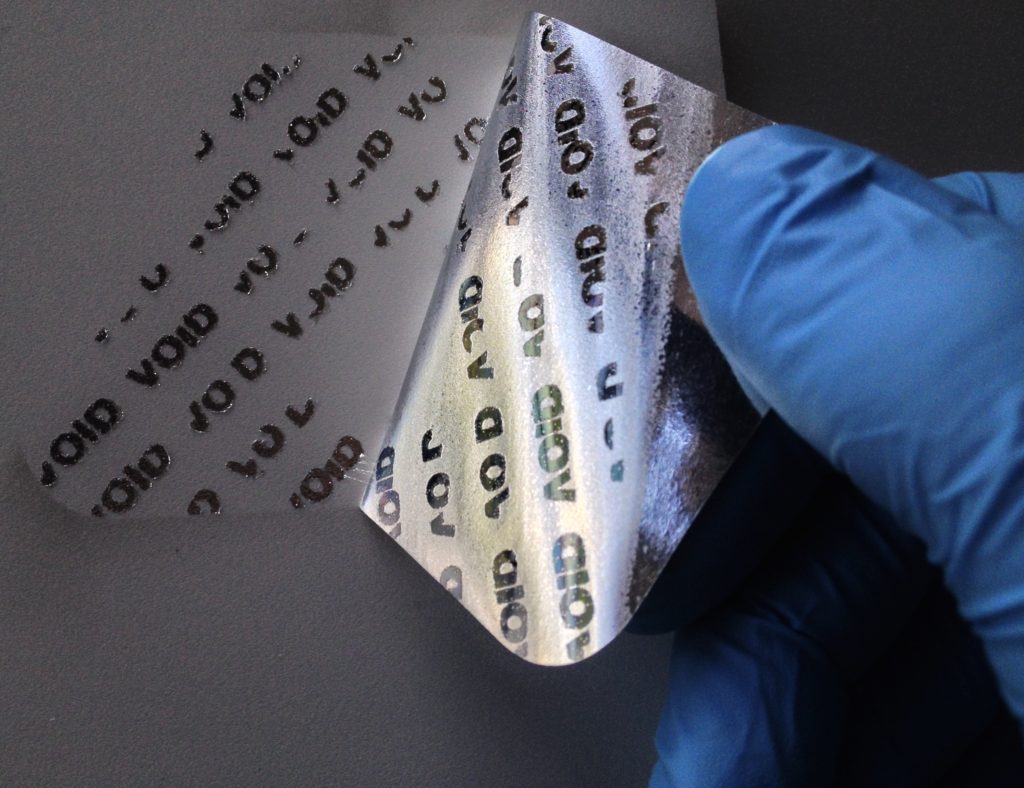 Tamper Proof Security Labels Are Often Used To:
Authenticate genuine products
Detect counterfeit goods
Deter theft and diversion of products
Pinpoint gray market activity
These tamper proof security labels can include a layered approach of covert, semi-covert, and forensic features for added security. For example, to start they are often numbered or barcoded for tracking purposes. From there we can help create a custom-designed solution with protection that the uninitiated to see or detect.
At Coast Label we have the technical expertise and will consult with you to manufacture the best security or tamper proof stickers in this constantly evolving area. Whatever your needs are for custom tamper proof stickers that you need. Customization is our specialty.
Tamper Proof Security Label Solutions
Tamper proof security labels have a wide variety of uses and solve multiple problems. They work great for file cabinets, doors, windows, boxes, containers, and more. We make our labels with a pressure-sensitive adhesive so you can simply peel and place them wherever you need them. We can also make them as custom as you need to protect your products and equipment, control who accesses files and containers, or other situations where you need to keep items or documents confidential.
Invisible inks
Chemically reactive coatings
Chemically sensitive inks
Fluorescent inks
Thermochromic inks
Tamper evident materials
Tamper Proof Void Labels
When you need to prevent undetected access, tamperproof void labels can offer you peace of mind and protection. With a wide variety of applications, void labels can be affixed to electronics, packaging, alarms, aircraft doors, and more. 
Tamper proof void labels leave behind a void pattern when the seal has been tampered with. They cannot be repositioned or replaced without showing signs of tampering. Tamper proof void labels can be used for:
Industry panels–prevent undetected meddling with equipment parts

Shipping cargo and pallets

Security equipment

Valves and meters

ATMs

Coin boxes

Product packaging–aids in returns management
Pharmaceutical Security Labels
One of the huge challenges in pharmacy today is the prevalence of counterfeit drugs. By tampering with outer packaging or reusing primary containers, criminals are able to introduce counterfeit drugs to the supply chain. Pharmaceutical security labels play a big role in preventing dangerous counterfeit drugs from being sold alongside legitimate medications. 
Our pharmaceutical security labels indicate when packaging has been opened for the first time. These tamper-proof labels also prevent reuse so that counterfeit drugs cannot be placed inside a legitimate packaging, syringe, or vial. 
In addition to tamper-evident seals, security labels with serial numbers, barcodes, and other tracking features can help verify the legitimacy of a product. This is another step in preventing the reuse of packaging with counterfeit pharmaceuticals. 
Paper Security Labels
Shoplifting accounts for about a third of a store's product loss and can have a major effect on a company's revenue. Paper security labels are one way for a company to prevent the loss of expensive products. 
Security labels are made on thin paper with a sensor that alerts staff to shoplifting attempts. They're self-adhesive and work well on items such as books, video games, movies, cosmetics, and electronics, which are some of the most shoplifted items. Paper security labels can be printed with barcodes or your custom text. Additionally, we can produce them in just about any shape and size that you need.
Destructible Vinyl Labels
Destructible vinyl labels are a kind of tamper-proof label that cannot be removed without being destroyed. Destructible vinyl labels use a permanent adhesive that cannot be replaced or repositioned. Tamper-evident vinyl breaks into smaller pieces when removed so that the label cannot be placed on a different object. This protects you and your customers from counterfeit goods and helps you keep your assets secure. Destructible stickers offer a visual cue that something has been tampered with, making security easier to maintain. 
At Coast Label, we can print virtually any design and color you need on your destructible vinyl labels. Destructive vinyl is white but can be printed on any color of ink. From logos and addresses to barcodes and QR codes, we can help you design the perfect destructible stickers for your needs. With our vast cutting-die library and our specialty equipment, we can manufacture destructible vinyl labels in just about any shape or size. 
Uses for Destructive Vinyl Labels
Destructive vinyl labels can be used for pretty much any application where you want to prevent tampering and counterfeiting. They help prevent unauthorized entry or use of an asset. Destructive vinyl labels are often printed with a barcode or QR code for easy scanning as part of an inventory management system. This helps protect businesses against shrinkage and helps employees quickly take stock of inventory. 
One common use of destructive vinyl labels is with company-issued assets, such as laptops, cell phones, and office furniture. With employees using equipment at home or assets being transferred to various locations, destructive vinyl labels are highly useful in keeping track of assets that have been loaned. Labels cannot be removed without obvious signs, which protects against asset loss. When used to seal openings, destructive labels can protect equipment from being tampered with by unqualified personnel. Some of the most common uses of destructible vinyl labels include:
Property labels

Safety labels

Security seals

Warranty seals

Calibration labels

Void-if-opened labels

Price tags

Electronic devices

Scannable inventory labels

Prevention of unauthorized asset transfers
For best application, do not place destructive vinyl labels over a sharp edge. Sharp edges may cause the label to tear. Destructible vinyl labels are not recommended to be used outdoors, as they will not hold up well against the elements. Another thing to note is that destructive vinyl is not overlaminated. Overlamination prevents the vinyl from destructing when removed.
Other Uses For Custom Tamper Proof Stickers & Labels
Product Authentication
Custom tamper proof stickers are often used to authenticate products, such as electronics, pharmaceuticals, and apparel. These stickers are usually marked with a unique serial number, bar code, or QR code, which can be scanned by the manufacturer or retailer to verify the product's authenticity.
Branding
Custom tamper proof stickers are also used as branding tools to help customers identify a product as being made by a particular company. For example, many companies will use customized tamper proof stickers to apply their logo or slogan to their products.
Publicity
Custom tamper proof stickers are also used by companies to increase their public visibility, such as by placing them on promotional products or distributing them as giveaways.
We can make custom tamper proof labels and stickers specifically to fit your needs. Just tell us what you need and we'll make it happen. Get your free proposal today!