CUSTOM INDUSTRIAL LABELS / DURABLE LABELS
Durable and industrial labels are at the core of what makes Coast Label a precision label manufacturer. That's why we work so hard to always be on the cutting edge of industrial labels. Industrial labels are made to adhere to electronics, heavy machinery, barrels, floors, and storage racks so they have to be incredibly durable. We also provide you with graphic overlays when needed. Not sure exactly what materials you need? Our team of specialists is trained to provide the guiding steps to help identify the correct combination of materials, inks, laminations to make your project succeed. Have a specific construction that you need to match or improve upon? We are comfortable and well versed in working with specification drawings and quality documents.
Perhaps more importantly, when it comes to industrial labels, we recognize that the technical and precise requirements of each project are different. Because of this, we approach each project as a partner, helping you craft a custom solution specific to your unique needs.
For example, durable can mean resistance to moisture, or solvents, or weather, or abrasion, or exposure to UV light, or cold temperatures, or more. Our team works with you to determine what durable means to you and then provides a technical solution. We have a large selection of durable stock materials, and access to even more custom materials through our extensive ISO-vetted supplier network.
In addition, we also offer UL Recognition on a range of durable materials for industrial labels including metal and access to the full range of 3M high-performance label stocks and adhesives through our 3M Select Converter access. So let us help you be a hero, and design the correct durable label product for your needs.
Capabilities of Durable Industrial Labels:
High-temperature resistance
Custom shapes with tight tolerances
Protection of inks against abrasion
Specialty adhesives
Part number management
Chemical Resistant constructions
Common Chemicals Our Constructions Can Resist:
70% Isopropyl Alcohol (IPA)
Laundry Detergent
Engine Oil (10W30)
Water
Ammonia (ph11)
409® Cleaner
Toluene
Brake Fluid
Reference Fuel C
K1 Kerosene
Heptane
Skydrol
Industrial Labels Solutions
An industrial equipment rental company based in Arizona needed an easy way to identify equipment in the field. The team at Coast Label worked closely with them to develop a QR code label that could be easily scanned by their technicians' mobile devices.
Due to the high sun exposure their products often encountered, we utilized special UV fade-resistant inks to increase the longevity of the industrial labels. To protect from the extreme heat and sand that was often common in the job sites, we suggested a durable scratch-resistant layer to protect the inks from abrasion. And throughout the entire development cycle of the label, we provide material samples and guidance that resulted in a well thought out product that met the customers needs and use case.
Custom Industrial Labels
The rough conditions of industry require industrial product labels and stickers that are just as tough. In order to be truly durable, custom industrial labels need to remain legible through all conditions. Labels that tear or peel just won't do. Adhesives that come unstuck made for an unsafe worksite. That's why at Coast Label we use specialty adhesives, durable label materials, and long lasting ink for custom industrial labels that will endure the harshest conditions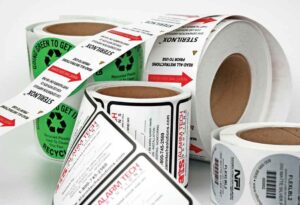 Uses of Industrial Labels
From construction to warehouses, industrial stickers and product labels are used in a wide array of industries. Here are a few of the most common uses of custom industrial labels:
Automotive parts and car batteries
Safety and warning signs
Scannable barcodes and QR codes
Warehouse shelf labeling
Construction equipment
Lab equipment
Wire labeling and cable management
Electronics
Commercial vehicles
Boats and marine equipment
Layers of an Industrial Product Label
When it comes to designing your custom industrial labels, there are a lot of factors to consider that will affect the durability. That's because labels are made up of multiple layers. Each layer can be customized to fit your exact needs.
Adhesive–the kind of adhesive used will depend on the surface the label will be sticking to. Conditions like heat and chemicals will affect how an adhesive performs.
Facestock–this is the top of the label, where everything will be printed on. With a wide selection of facestocks to choose from, we can make sure your labels won't tear in industrial conditions.
Liner–this is the backing of the label. The liner used will depend on the adhesive. Quality liners make printing easier.
Top coat–not all labels use a top coat. However, when you need your label to resist moisture or chemical exposure, a top coat will ensure the durability of the label.
Chemical Resistant Labels
Whether for a lab or a factory, chemical-resistant labels play an important role in keeping people safe. Chemicals and solvents are hard on adhesives and facestock materials. In fact, traditional stickers peel off after exposure to chemicals. But safety and warning labels that peel off after exposure to industrial chemicals are a waste of money as well as a safety risk. 
At Coast Label, we specialize in helping you engineer labels that will endure harsh exposure to chemicals and solvents. From healthcare to automotive shops, businesses across all industries rely on Coast Label for our durable, chemical resistant labels. 
Some of the common chemicals our chemical resistant stickers can withstand include:
70% Isopropyl Alcohol (IPA) 

Laundry detergent

Engine oil (10W30)

Water

Ammonia

409 Cleaner

Toluene

Brake fluid

Reference Fuel C

K1 Kerosene

Heptane

Skydrol
Custom Chemical Resistant Labels
We take pride in offering custom chemical proof labels that will solve your unique application challenges. We work with you one-on-one to ensure that all aspects of your chemical resistant stickers and labels do exactly what they need to. Our application specialists will help you engineer your labels from top to bottom, choosing the best adhesive, material, and top coats for your individual needs. 
As a 3M Select Converter, we have access to 3M's full range of high-performance label stocks and adhesives. We have a vast supply of industrial-grade materials to work with, and access to even more through our ISO-vetted supply network. 
When you choose Coast Label, you can be sure that you'll be getting the perfect solvent-proof labels for your lab, factory, automotive shop, and more! 
Uses of Chemical Resistant Labels
Solvent proof stickers and labels are beneficial anywhere solvents and chemicals are present. Contact with chemicals, such as isopropyl alcohol or engine oil, breaks down traditional adhesives. Chemical resistant stickers and labels, however, resist the effects of solvents and chemicals to remain in place.  
Chemical proof labels can be used for the following applications:
Drum labels

Household chemical labels

Automotive labels

Control panels

Data tags

Nameplates

Barcode labels for inventory management

Laboratory equipment labels

Pharmacy labels

Medical equipment labels

Lawn care equipment labels 

Hazardous chemical warning labels
Benefits of Chemical Resistant Labels
How can chemical resistant labels help you? Here are some of the benefits of chemical proof labels and stickers: 
OSHA compliance: All workplaces that use hazardous chemicals are required to label them,

per OSHA's standards

. Making sure your labels are chemical proof will help you comply with OSHA standards as well as keep your employees safe.

Adhesion after sanitation: Isopropyl alcohol is commonly used in healthcare settings to kill microbes and keep patients safe. However, IPA can break down the typical permanent adhesives. Using alcohol resistant labels will ensure that medical labels will remain in place even after isopropyl alcohol has been used. 

Durability: Industrial conditions are tough. In addition to exposure to chemicals, industrial labels are often exposed to extreme heat, abrasion, and moisture. Our chemical resistant labels are designed to resist the rigors of industry. 

Colorfastness: Traditional labels tend to fade when exposed to solvents and chemicals. Chemical proof labels are designed to remain colorfast and legible after chemical exposure.