BARCODE LABELS & QR CODE LABELS
Verified Barcode Labels and QR Code Labels
At Coast Label we are able to print a wide array of 1D and 2D barcode labels including static barcodes (such as a UPC barcode on consumer products), consecutively numbered barcodes, and labels with QR codes.
Our combination of specialized equipment, software, and expertise sets us apart. We are one of the few label companies that have invested in a TruCheck® barcode verification system. TruCheck® provides an ANSI grading score to insure that our barcodes are scannable and meet or exceed the industry standards (Case Study: ANSI Graded Barcodes).
Considering More than Just the Data
Beyond the barcode and serialization, we view the label from a holistic viewpoint. For example, what good is the print and data, if it doesn't hold up to your usage needs? Coast Label has the correct face stocks, adhesives, and protective lamination combinations to provide you with the right balance of function, tractability, and durability to meet any asset label requirements. The benefit of having us handle your barcode label and QR code label needs is complete customization and more importantly a solutions partner who knows what questions to ask.
Barcode Labels & QR Code Labels Capabilities
Consecutive Barcodes
ANSI Readability Grading
1-D and 2-D Codes
Durable Constructions
Fade Resistant Ink Options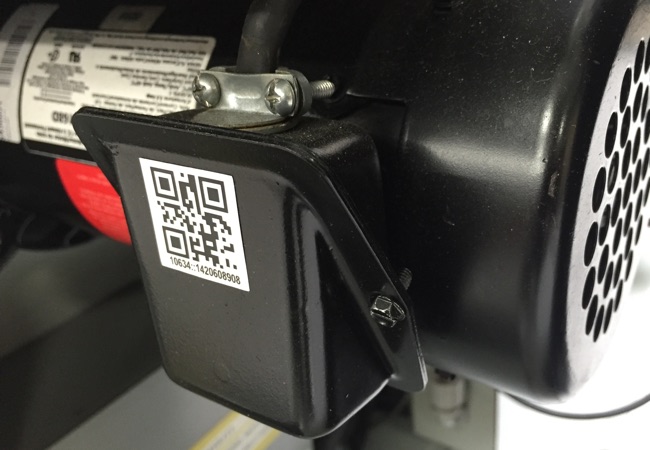 What are QR code labels?
Quick Response codes (QR codes) are very popular (but not the only) type of 2D barcode. Small and square-shaped data blocks applied to printed labels, contain complex code you can scan with your smartphone or a QR reader. In fact you can encode a wide range of data into QR codes giving you the ability to access internet data, input information, product serialization, instruction manuals and more.
You may be wondering what makes QR codes so different. In fact these versatile codes can contain much more information in a much smaller area than a traditional 1D barcode. This is because they show information in both horizontal and vertical dimensions–hence the name 2D. In fact, most barcode labels you see on products (e.g. UPC Barcodes) only display information in a single horizontal line.
Getting started
At Coast Label, we can print QR and barcode labels for your business quickly and easily. This is something we do all the time. All we need is your information you want linked to your codes and we'll handle the rest. One of the benefits of these codes are the great possibilities for customization. Whether you going for a certain look such as matte or glossy, or durability for a particular use case, we can consult with you to make it a reality. We can produce static, and consecutive QR labels, or even print QR labels from a database.
COMMON BARCODE LABEL & QR CODE LABEL TYPES
Below are some common barcode types. While not an exhaustive list by any means, it covers a lot of the "greatest hits" from the barcode world.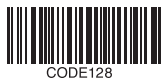 CODE 128:
The most robust of the 1-D barcode types. The number 128 refers to the barcode's ability to hold any character of the ASCII 128 encoding set–which includes all digits, characters and punctuation marks. This makes it a compact yet powerful barcode, that's capable of holding a diverse rage of data. Typically used in logistics applications.
UPC-A:
Perhaps the most well-known barcode used in the United State, UPC-A (Universal Product Code, Variant A) encodes 12 digits of data. It's comprised of a number system character, a five-digit manufacturer number, a five-digit product number, a check digit. Typically used in retail and supermarket applications.

UPC-E:
UPC-E is the baby brother of the UPC-A barcode. This condensed version is about half the size of a UPC-A barcode. As a result, it is typically used on small products where space is limited. Similar to UPC-A, it is typically used in retail and supermarket applications.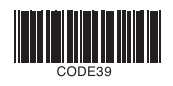 CODE 39:
Also referred to as '3 of 9 Code', it is a variable-length barcode. Because it's encoding allows for self-checking, a check digit isn't necessary–although it's still recommended. Has the ability to encode up to 43 numbers, letters and other characters. Typical uses include automotive and military applications.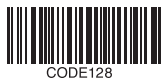 EXTENDED CODE 39:
This barcode uses a combination of two standard Code 39 characters to encode the 128 ASCII characters. The benefit over 39 is it allows for special characters such as lowercase letters. That said, as more special characters are used, the longer this barcode will become. Typical uses include automotive and military applications.

CODE 93:
Designed to address some of the shortcomings of older barcodes such as Code 39. This barcode encodes data more compactly and with higher data redundancy. Most often used in Automotive and Healthcare applications.

Interleaved 2 of 5: 
To achieve a higher density of data encoding, Interleaved 2 of 5 encodes data in the width of both the bars and spaces. This barcode type sees a lot of usage in distribution, logistics, and warehousing applications.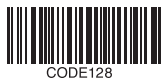 GS1 DataBar Omnidirectional: 
These are high data density codes designed to hold the 14 digits Global Trade Item Number (GTIN). Because it is smaller than both the UPC and EAN barcodes, it works especially well for a more compact package. Common applications include coupons used by retail and supermarkets.

Data Matrix: 
Data Matrix codes allow encoding of large amounts of data. Thanks to a built in error correction system, codes that have been damaged by up to 40% are still readable. They are made up of black and white cells in a square or rectangular pattern, a finder pattern and a timing pattern. Used across a wide range of industries including aerospace, mail, packaging, and printed media.

MaxiCode: 
This is composed of a central locator and rows of hexagonal pieces. Useful for scanning packages at high speeds along a conveyor line. As such, it is used in the field of logistics.

QR Codes: 
Quick Response Codes (QR codes) contain square blocks of black cells with three finder patterns. Originally designed for tracking parts during assembly of vehicles. Since then it's grown exponentially due to the availability of readers on smartphones. Uses including automotive, manufacturing, and marketing.