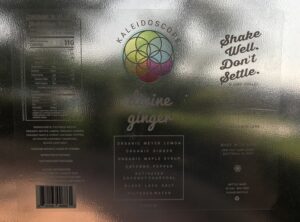 We specialize in making custom labels to meet your specific needs and that includes custom clear labels. We have transparent waterproof films in glossy and matte finishes that we can custom print and die-cut into labels for you. Need something extra special? We regularly work with suppliers to bring in specialty clear material to produce high-performance clear labels.
Options For Custom Clear Labels
There are many benefits and uses for clear labels. The key is getting the correct material for your specific needs. That's where we come in. Whether you need them to be custom-printed or blank, we can work with you to make your requirements a reality. Here are some of the benefits of getting a custom clear label from Coast Label:
Work with our experts to choose the correct clear label material including UL compliant, removable, and optically clear options
Available in a variety of roll formats to fit your equipment including different and custom core sizes
Additional IR or UV clear pigments/floods available to help aid optical reading equipment
Timing marks or eye marks can be added on the liner to help orient secondary printing and application equipment
Blank and Custom Printed Labels
If you need personalized clear labels for a particular product or package, we can make custom labels to fit those needs. We maintain an ISO 9011:2015 facility, which means our labels are of the highest quality in the industry.  We select materials that are incredibly durable and waterproof and can help find the finish (i.e. matte, gloss) that completes your project.
These labels are great for showcasing what's inside the packaging. These are perfect for when you need labels to look mostly transparent while having a nice pop to them with clear face sheets. This allows us to make your labels as vibrant as you need with a permanent adhesive that works on a variety of textures and materials.
Static Cling Stickers / Labels
Static cling stickers and labels are made of a type of flexible vinyl. They'll stick to glass using moisture from the air. They can stick to clean glass surfaces for more than a year. At Coast Label, we don't make actual "static cling" stickers or labels but we do make removable clear labels as an alternative. These are incredibly easy to apply and remove when needed.
Plus, they have an advantage over traditional static cling stickers that need to be hung inside. That's because the weather can affect how well the label adheres to the glass. Our removable labels can be used both outdoors or indoors.
Request a proposal to see if we can meet your clear label needs.