CUSTOM BLANK WATERPROOF LABELS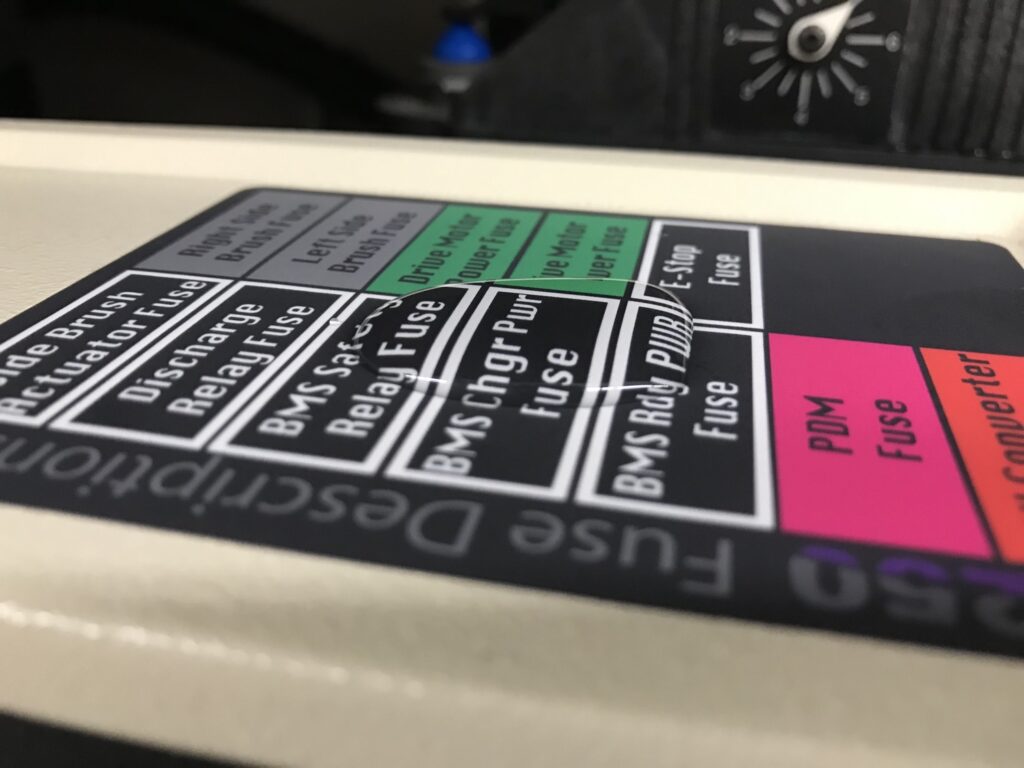 We are experienced in manufacturing custom blank waterproof labels to meet your wet application needs…even if that means you need something water-resistant, waterproof, or something more. We have designed and manufactured printed waterproof labels, including blank waterproof labels, for some of the hardest wet and underwater environments including pool equipment, submerged pool lighting, and BS5609 compliant applications.
When it comes to durable blank waterproof labels, we are well versed in synthetic stocks and adhesives and would be happy to work with you through the design and specification process. Just know that even if the temperature requirements turn cold, and your labels need to be applied in frosty or refrigerator environments, we have the custom labels you need. At Coast Label, we have experience manufacturing durable labels that can be applied at or withstand cold temperatures.
Material and Design Options for Blank Waterproof Labels
With your input, we work together to create custom, die-cut-to-size, waterproof labels. At Coast Label we are consultants first and foremost, so we work with you to understand your process from application to usage. Labels can be kiss cut and stripped for easy removal from the liner including machine application, or they can be sheeted for individual dispersal. We work with you to determine what sizes and finishes work best or are achievable, including high-gloss, matte, or UV resistant laminations that will prevent fading.
Water resistance also doesn't have to be limited to one material. We are able to build a waterproof construction from a number of materials including vinyl, polypropylene (BOPP), or polyester (PET). Depending on the configuration, these can have different properties including flexibility, rigidity, temperature resistance, and even chemical resistance. We can also make them clear if that suits your needs.
As everything is custom, you aren't limited to a standard rectangle. We can work with custom shapes, sizes, and unique configurations designed to accommodate your container and packaging options. Get your free proposal from us and test us. We can make custom blank waterproof labels for whatever your needs are. We also make custom printed waterproof labels.
Waterproof vs Water-Resistant Labels
Although waterproof and water-resistant labels are similar, they each have their own uses. Waterproof labels are designed to withstand complete submersion in water without damage or loss of function. These labels are made from durable materials such as vinyl or polyester, along with specialized adhesives and ink. 
Water-resistant labels, on the other hand, offer some protection against water but may not withstand complete submersion. These labels are typically made from materials like coated paper or polypropylene and have water-resistant laminations. While water-resistant labels provide a good level of protection against occasional splashes, they may not hold up under prolonged exposure. 
Best Uses for Waterproof Labels
Some of the best uses for waterproof labels include:
Beverages: Beverages like water bottles, soda bottles, energy drinks, and alcoholic beverages are commonly splashed or exposed to ice or condensation.  Waterproof labels stay put even when stored in icy water for long periods of time.  
Bath and body products: Personal care and bath products like shampoos, body washes, lotions, and cosmetics tend to come in contact with water. Waterproof labels maintain their adhesion and legibility even in the shower, tub, or humid bathroom environments. 
Outdoor equipment and gear: Labels applied to outdoor equipment and gear need to withstand harsh weather conditions, including rain, snow, and UV exposure. Waterproof labels are an excellent choice for labeling outdoor gear such as hiking backpacks, sporting equipment, and camping gear. 
Food packaging: Food products often require labels that can withstand refrigeration, condensation, and even brief exposure to liquids during cooking or preparation. Waterproof labels are commonly used in food packaging for items such as frozen foods, sauces, condiments, and refrigerated products.
When Not to Use Waterproof Labels
Waterproof labels are highly durable, but they aren't always the right choice. Waterproof labels are more expensive than water-resistant labels. Here are some circumstances when not to use waterproof labels: 
Short-term applications: If you need labels for temporary applications where water exposure is minimal, standard paper labels or water-resistant labels are more cost-effective. 
Indoor use with no water exposure: If you know your labels will exclusively be used in indoor environments with no direct water exposure (such as the office or a retail store) waterproof labels are unnecessary. 
Removable label requirements: Waterproof labels have very durable adhesive properties. If you need removable labels, waterproof labels are not the right choice. They will be difficult to remove and leave behind a residue.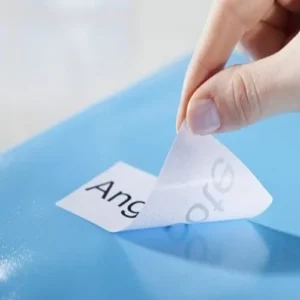 Customization of Waterproof Labels
Customizing your waterproof labels is easy with Coast Label. Whether you're ordering blank waterproof labels or labels with a custom design, we'll help you engineer the right label for your needs. With our vast collection of cutting die as well as our special plotter cutter machine, we can manufacture custom waterproof labels in just about any shape and size you need. 
Printing Waterproof Labels
Whether you're creating personalized labels or a short run of products, sometimes, it's just easier to print your own waterproof labels. With our blank waterproof labels, you can order sheets or rolls ahead of time to have on hand when the need arises.  
How Long Do Waterproof Labels Last?
Waterproof labels are extremely durable, but how long do they last? The answer depends on the extremes of the conditions as well as the material used. Waterproof labels made from vinyl last between 3 to 5 years, while waterproof labels made from BOPP can last anywhere from 6 months to 2 years. 
Can You Apply Waterproof Labels to Wet Surfaces?
Most labels require a clean, dry surface for adhesion to work well. However, some applications need to be applied to a wet surface. If that's the case, you can use a specialty adhesive designed for wet applications.
Are Waterproof Labels Resistant to Other Liquids?
Yes, waterproof labels are resistant to other liquids. Waterproof labels are indispensable to industries where other liquids are present. Waterproof labels can withstand exposure to oils, fuels, cleaning agents, and other chemicals, all the while important information visible and legible.
We can produce custom waterproof labels as specific as your needs and as custom as your designs. That's why we call them custom! Whether you need roll labels, stacks of water-resistant laser labels, or custom-cut materials for your thermal transfer printer. Ready to get started? Contact us here to request a proposal.