Custom GHS Labels Explained
The Globally Harmonized System of Classification and Labeling of Chemicals (or GHS) is an international standardized set of criteria for labeling chemical containers, drums, and barrels. The goal of GHS is to consistently communicate hazard information and safety precautions to ensure proper handling and use of dangerous chemicals. Making custom GHS labels to your needs and specifications
At Coast Label, we are experts at helping you develop custom GHS labels that can accept the appropriate GHS just-in-time signifiers for your product. Not only can we print as much, or as little, custom information as you need, but we can work with you to develop the correct materials for your individual application.
Do you have printers currently on-site that you want to utilize? We have proven experience tailoring the correct materials and finish to fit and print within your chosen device. At the same time, we are equally adept at helping develop a new system, including media, printers, and durable ribbons. What to learn more about Designing Custom Just-in-Time Labels? See our White Paper.
Capabilities of Custom GHS Labels:
PGAA Authorization to Print the UL Mark
UL Classified marks
UL Listed marks
Type R labels
Type L labels
CSA C22.2 No. 0.15
UL Recognized Components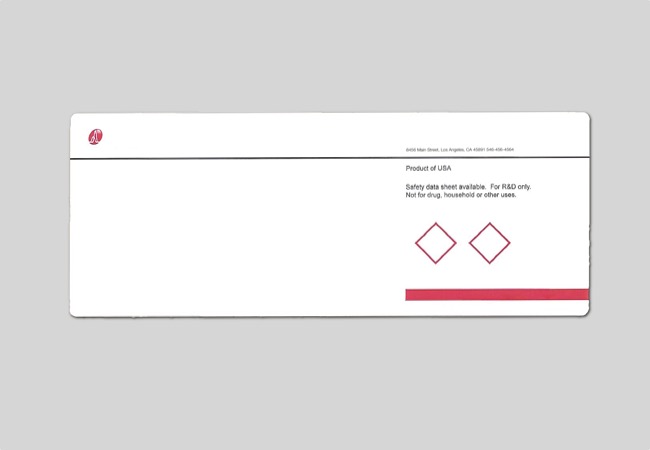 THE SIX STANDARDIZED ELEMENTS OF A CUSTOM GHS LABEL
Once a chemical is classified, it's important that the hazards are communicated through its labeling. Although labels may be formatted differently, GHS has standardized six basic elements that must be presented uniformly so as to clearly identify hazards and safety information. Those six standardized elements are as follow:
Product identifier to define chemical ingredients
Signal words such as "DANGER" or "WARNING"
Hazard statements such as "Fatal if swallowed"
Precautionary statements regarding storage, disposal and/or handling
Company identifying information
Hazard symbols or pictograms surrounded by a red diamond (Note: the red diamonds cannot be left blank
Drum Labels 
Drums are used typically to store large amounts of hazardous materials. This would include petroleum, explosives, chemicals, pharmaceuticals, and the list goes on. The thing to remember about drum labels is that they must comply with certain guidelines. 
Hazardous waste drum labels 
Drum and barrel labels must be made to withstand the wear and tear of transportation and storage abuse. These labels also must contain a certain amount of informational content, instructions, and warnings required by the GHS (Globally Harmonized System of Classification and Labeling of Chemicals.) At Coast Label, we have the experience and materials to meet the needs of creating strong adhesives that stick well to drum surfaces such as steel and plastic containers. We can customize drum labels for you or assist in printing your own vision. 
Non-Hazardous waste drum labels 
Our non-hazardous waste drum labels are suited for all outdoor applications and not only comply with industry standards but are made to adapt to curved surfaces. With immense tensile strength and weather ability, our labels boast an enhanced barrier to water, gases, oils, and other chemicals which makes them the perfect choice for drum labeling.
GHS Labels for Chemicals
We know it can be difficult to get GHS labels for chemicals. That's why getting custom GHS labels is such a good option. We've been making GHS labels for chemicals years so we know how to create industry-approved custom labels compliant with the necessary hazard requirements.
What is a GHS Label?
A GHS label is a type of label that uses a combination of text and pictogram to identify and classify chemicals. These labels follow the standards from the Globally Harmonized System (GHS), which was created by the UN. Before GHS standards were enacted, working with chemical containers could be dangerous. Different chemicals need to be handled in different ways. If a shipment of chemicals from overseas was labeled in another language or with different elements, employees might not even know what they were working with. The UN created the GHS to standardize the way chemicals were labeled internationally and eliminate the guesswork. 
GHS labels use specific elements to communicate exactly what kind of chemical is inside the container. The information on a GHS label helps employees handle the chemical appropriately. For example, when handling chemicals that are harmful to airways, employees know to put on the appropriate PPE. 
GHS Shipping Labels
GHS shipping labels are a requirement when shipping any kind of chemical. Per GHS standards, GHS labels must be placed on the individual chemical containers as well as on the larger boxes or drums used to transport the chemicals. This ensures that the chemicals are properly handled during shipping.  
GHS Label Elements 
To be GHS compliant, GHS chemical labels must include six elements. 
Product identifier: This tells anyone handling the chemicals what kind of chemical is inside. Example: Ammonia.
Signal word: This indicates the level of hazard the chemical presents. For example, "Danger" is more severe and "warning" is less severe.
Manufacturer information: This includes the name of the company, the address, and contact information.
Hazard statements: These are specific phrases used to classify the nature and degree of the hazard. Example: Explosive when dry. 
Precautionary statements: These phrases are connected to specific hazard statements. They describe how the chemical should be stored, handled, and disposed of, as well as how to respond in case of a spill. 
Hazard pictogram: One of the most important components of a GHS-compliant label is the GHS symbol. These pictograms are surrounded by a red diamond and are used as a visual identifier of the kind of hazard. Example: the flame symbol indicates that the chemical is flammable, self-heating, pyrophoric, emits a flammable gas, is an organic peroxide, and/or is self-reactive.
GHS Labeling Requirements
GHS distinguishes between primary and secondary containers. GHS labeling requirements are mandatory for primary containers. This includes the bag, box, barrel, bottle, can, cylinder, or drum the chemical comes in from the manufacturer. GHS labels on the container from the manufacturer cannot be covered, removed, or defaced. If the label wears out, it must be replaced with a GHS label with the same information. 
A smaller container chemicals are transferred to is called a secondary container.  Secondary containers are smaller and easier to manage than primary containers and might include jars, spray bottles, or jugs. The GHS labeling requirements for secondary containers is almost exactly the same as for primary containers. However, GHS chemical labels are not required when the following criteria are met: 
The chemical is used during the work shift of the person who made the transfer.

The person who made the transfer is in the work area while the chemical is used.

The container stays with the person who transferred the chemical within the work area. 
GHS Compliant Labels 
GHS-compliant labels follow the standards set by the Globally Harmonized System of Classification and Labeling of Chemicals. This set of standards is not international law, but the hope is that all United Nations members will adopt the standards. In 2012, OSHA aligned their Hazard Communication Standards with the GHS standards, meaning GHS labeling is a requirement in the US.
Labeling chemicals appropriately is the main way to be GHS compliant. GHS-compliant labels use all six of the GHS label elements to succinctly describe the type of hazard the chemical represents. Primary and secondary containers must be appropriately labeled, and labels should not be removed from primary containers. 
GHS compliance can feel overwhelming, but it doesn't need to! At Coast Label, we'll help you design custom GHS labels that appropriately follow the standards. Custom GHS labels from Coast Label are durable and long-lasting so you can keep your employees safe and remain GHS compliant.