OUTDOOR STICKERS FOR EQUIPMENT
When you need outdoor stickers, one thing's for sure: you want durable stickers that stand against the elements. At Coast Label, we only use the highest quality materials to produce your custom outdoor stickers for equipment, outdoor labels, vinyl stickers for outdoor use, and more. Come rain, snow, or the dry heat of the summer sun, our outdoor stickers will withstand weather and other extreme conditions.
Outdoor Stickers & Outdoor Labels
From labels for children's toys to hiking equipment, you want your product labels to stay put. Labels for products that go outside need to be extra durable to handle the demands put on them.
You might also need outdoor stickers for outdoor equipment. Security labels, marking hard hat areas or areas where the general public needs to keep out, only work when they stay put.  And safety labels that fade or peel off can lead to dangerous situations.
Your reason for needing custom outdoor labels will be as unique as your business. We customize your labels to your exact needs. Labels for bikes and water bottles will need different adhesive than labels for construction equipment. When we work with you, we take everything into consideration, engineering an outdoor label that will work for you.
Here are a few common uses for outdoor stickers:
Construction labels
Security labels
Safety labels
Branding stickers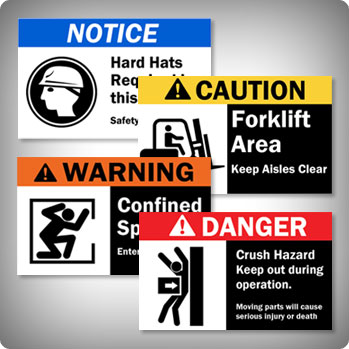 Waterproof Outdoor Stickers
As life-giving as water is, it can also cause all sorts of damage, including custom-made stickers. When you're relying on those stickers to relay important information, making sure they're waterproof is essential.
Most custom decals and stickers are water-resistant, but over time, water will undermine the adhesive and fade the printed design or text. Truly waterproof outdoor stickers need to be made just for that purpose. Most stickers that are waterproof are made of vinyl, with adhesives meant for long-term exposure to water. However, at Coast Label, you aren't only limited to outdoor vinyl stickers. We can also create waterproof stickers and labels in polypropylene (BOPP) or polyester (PET). Simply apply to clean, dry material, and your stickers will be ready to get wet.
Here are a few common uses for custom waterproof outdoor stickers:
Windows and glass doors
Lawnmowers and other powered equipment
Construction equipment
Safety instructions for playground equipment
Boats, RVs, and other recreational vehicles
Outdoor industrial equipment
Fences around nurseries and gardens
At Coast Label, we can design waterproof outdoor stickers and decals that will stand up against long-term exposure to moisture. We can kiss-cut or die-cut the stickers, depending upon what you prefer, and can even create clear waterproof labels.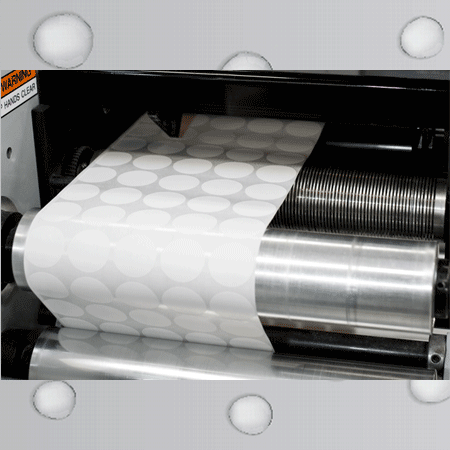 Outdoor Stickers for Extreme Temperatures
Another factor to consider when choosing outdoor decals for your business is the temperatures they will be exposed to. Long-term exposure to cold can turn outdoor stickers brittle and can degrade the adhesive. Exposure to heat can prevent the outdoor label from sticking. If your custom outdoor stickers will be exposed to extreme colds, extreme heat, or fluctuating temperatures, you'll need adhesive designed for that purpose.
At Coast Label, we will help you consider all factors for extreme conditions–from moisture exposure to temperature. Our hot and cold outdoor labels are weatherproof when it matters the most. Here are some of our extreme temperature capabilities:
Moisture resistant materials
Thermal transfer
Outdoor Decals
While you might think decals and stickers are the same things, they both have different purposes. Stickers are generally smaller and used to put your logo where the customer can see it. Decals, on the other hand, are usually bigger and used as decoration or advertising. They can be placed on walls, floors, windows, automobiles, etc. If your company is sponsoring an event, outdoor decals can be used to put your branding on everything from tents and tables to signs and more!
Some common uses for outdoor decals:
Store window decals
Automobile decals
Sidewalk decals
Storefront decals
Long-Lasting Outdoor Decals
If you need decals for your business, you want them to last. Sidewalk decals can draw the customer's eye to your store or relay important information. But they have to be tough to stand up against foot traffic and be weatherproof. Placing outdoor decals on an automobile can be an effective way to advertise your company and spread the word. But you don't want them falling off while driving.
That's why Coast Label uses only the best materials. We engineer your labels to work for your needs. We'll help you choose adhesives specific to the location your decal will be placed, from asphalt or concrete to windows and car doors.
Custom Outdoor Stickers
Whether you need standard outdoor stickers or stickers with more unique needs, we can help. We'll customize your outdoor stickers, decals, and labels to the specifications you need. We can do any shape, size, or color, and have a variety of finishes, matte, satin, glossy, and more to meet your needs. Whether you want outdoor vinyl stickers or stickers from another durable material, we've got you covered. One of our label specialists will work with you one on one to design the perfect custom labels for your needs
Custom Outdoor Stickers For Equipment
Custom outdoor stickers for equipment can be a great way to add a personal touch to your tools and machinery. These stickers can be designed to include your company's logo, branding, or any other information you want to include. They are made from durable materials that can withstand the elements and are suitable for use on a variety of different types of equipment.
These stickers can also help to identify your equipment and make it easy for others to know who owns it, which can be especially useful on job sites or in other shared spaces. Overall, custom outdoor stickers can be a cost-effective and easy way to personalize and protect your company's equipment.