The flow of goods in and out of a warehouse can be a complex process with various moving parts. Warehouse labels are a simple yet effective way to streamline that flow while cutting down on human errors. Using barcode labels for shelves, pallets, and more, large quantities can be quickly and accurately tracked through the warehouse.
At Coast Label, we specialize in manufacturing custom labels from industrial-strength materials. From permanent warehouse labels to more durable weatherproof labels, we have you covered.
Custom Warehouse Labels
Although warehouses have a lot in common, your warehousing needs are as unique as your business. That's why Coast Label provides custom warehouse labels tailored to you. Whether you need non-standard warehouse label sizes or unique colors, we can engineer labels exactly to your preferences. Working with you one-on-one, our application specialists will make sure the materials and adhesives are right for your application.
Here are just some of the ways we can customize your warehouse labels:
Color: Color coding can be an important part of warehouse labels. We can print these labels in just about any color. Using the Pantone Color Matching System, we can match specific brand colors.
Size and shape: With a vast collection of cutting die and our special plotter cutter, we can manufacture labels in custom sizes and shapes to fit your needs.
Material and adhesive: Some warehouses have extreme conditions, such as heat or cold, that can affect the durability of a label. By engineering your warehouse labels based on those conditions, we'll make sure your labels are strong and durable.
Chemical resistance: When exposed to chemicals, such as isopropyl alcohol, some labels fade or peel. If you use chemicals in your warehouse, we can engineer chemical-resistant labels that will withstand exposure to chemicals.
Barcode Labels
Barcode labels are an essential part of warehouse management. With just a quick scan, you can count track pallets, count inventory, and identify individual SKUs. The most common kinds of barcode labels used in the warehouse are traditional 1D barcodes. These kinds of barcodes use black bars and white spaces to encode a certain number of digits. With advances in smartphone technology, 2D codes are becoming more popular. Employees can use their own smartphones to scan the code. But more than that, 2D codes can encode much more data.
The most common kinds of 1D barcodes used include:
Code 128
UPC-A
UPC-E
Code 39
Extended Code 39
Code 93
Interleaved 2 of 5
GS1 DataBar Omnidirectional
The most common kinds of 2D barcodes used include:
Data Matrix
Maxicode
QR Code
At Coast Label, we are able to print a variety of barcodes–both 1D and 2D–for your warehouse labels. Using the TruCheck barcode verification system, we ensure that all our barcode labels meet or exceed ANSI industry standards for scannability.
LPN/Pallet Labels
When a warehouse receives a shipment, the new inventory is typically brought inside in a pallet, bin, or carton. In fact, warehouses may receive and process hundreds of pallets in a single day. Pallets are usually a primary or secondary check item, and identifying them quickly is essential. License plate number (LPN) labels or pallet labels are used to track bins, cartons, and pallets as they move through the warehouse. Pallet or LPN labels are preprinted labels that use barcodes with sequential numbers. When scanned, LPN labels typically update warehouse management software with information about the location of the pallet.
Using LPN labels can help your warehouse flow better. By tracking the pallet, you can keep track of multiple individual units in one scan. This increases the efficiency of your warehouse and productivity of your employees. Plus, scanning pallets to count inventory cuts down on human error and miscounts.
Most LPN labels use paper stock with a permanent adhesive. However, depending on the conditions of your warehouse, you can customize the label materials to suit your needs. Some of the ways you can customize your LPN/Pallet labels include:
Color-coded LPN labels
Wrap-around pallet labels for easier access to label
Printed rolls
Sheets
Weatherproof material
Waterproof material
Logistics Labels
From the receiving dock, pallets are typically moved to the racks. Whether placed in dynamic or static storage racks, it's important to know the precise location of those stored pallets. That's where logistics labels come in. Logistics labels are barcode labels used to indicate the location of pallets in the warehouse. Logistics labels are scanned when items are stored or picked as well as when inventory counts take place.
The most common types of logistics labels used include:
Rack beam labels: Rack beam labels mark the location of racks and help identify items for storing, picking, and inventory management. With the constant movement of pallets on and off of the racks, rack beam labels need to be made from a more durable material than LPN/pallet labels. Typically, polyester or polypropylene label stocks are used.
Vertical location labels: In warehouses with multi-level racks, vertical location labels identify items on each level of the rack. Oftentimes, they are color-coded to make picking pallets from the higher levels easier.
Floor labels: Floor labels are another logistics label solution. Floor labels are placed on the floor to identify the location of racks or bulk storage. Because of the constant traffic, floor labels need to be extra durable. Floor labels are an excellent solution when labels cannot be placed overhead.
Retroreflective labels: Overhead labels in a multi-level rack present a challenge for scanning. Retroreflective labels allow the overhead labels to be scanned from a distance and usually include numbers and letters that are easily read.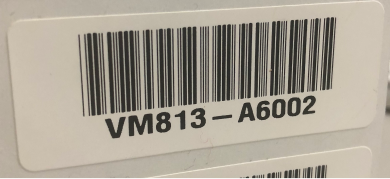 Number Labels
Barcode labels make for easy scanning and accurate counting, but sometimes, you just need human readable warehouse labels. Number labels help employees identify rack, shelf, and bin locations easily. Our number labels can be customized to any size or color you need and can be printed in consecutive order for easier organization.
What Are The Benefits?
Used with an effective warehouse management strategy, warehouse labels help improve the flow inside your warehouse. Here are some of the benefits of using warehouse labels:
Increased efficiency: With a quick scan, employees can account for hundreds of items. Less time is wasted in counting items one by one so that goods can be moved in and out of the warehouse to keep up with customer demand. Warehouse labels can also help with managing expiration dates and other safety concerns.
Fewer errors: Warehouse labels reduce the amount of errors made. Counts done by hand are prone to human error. Hand-picking can also lead to product mix-ups. With these labels, counts are more accurate and customers get the right product.
Reduce location confusion: With the amount of product stored, warehouses can be mazelike. Warehouse labels make it easier for employees to find product locations faster.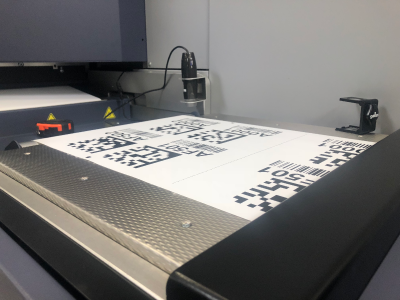 Warehouse Labels from Coast Label
Since warehouse labels play such an integral role in warehouse management, you want to be sure you're buying high-quality labels. At Coast Label, we use only the best, industrial-strength materials to create durable labels. We'll work with you one-on-one to engineer warehouse labels that are perfect for your unique applications.
 I just wanted to say thank you for all of your help in getting the labels we needed and in such a short amount of time. Your company was able to help us where your competition had failed miserably! We will definitely be coming to you for any other label requirements we run into.
Chas Wilbur

CMS Displays