Custom Thermal Transfer Labels
Coast Label manufactures custom blank or preprinted thermal transfer labels in a variety of different materials. These labels can be designed for short-term uses or be made from high-performance films paired with industrial-grade adhesives for long-lasting durability.
Many of our customers choose us because the materials, label shapes, roll sizes, or core diameters they need are not found in "stock" products anywhere, and custom labels that meet their exact needs are the best value for them.
Coast Label also manufactures UL Recognized thermal transfer labels. This allows our customers to imprint the labels with an approved ribbon and have a UL Recognized Component. We can also supply thermal transfer ribbons and kit them together with your labels so each carton contains just the right amount of ribbons and labels, which eliminates waste and out-of-stock situations. Click the button below to see what makes us some of the best custom thermal transfer label manufacturers in the industry.
Thermal Transfer Label Capabilities: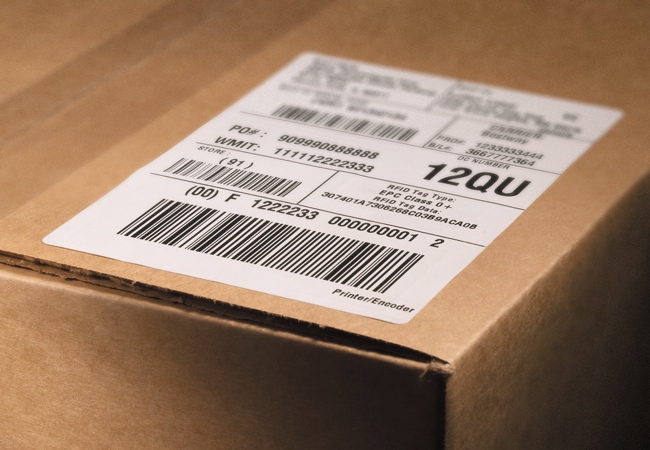 Thermal Transfer Labels
If you need a label that will last a long time, thermal transfer labels just might be what you're looking for. Because of the printing process used, thermal transfer labels are incredibly durable. During the printing of thermal transfer labels, a thermal printhead applies heat to a ribbon covered with a wax or resin-based ink. The ribbon material is melted and absorbed into the label material. Because of this, the printed text or content is resistant to heat, moisture, and chemicals. Unlike direct thermal printing, which requires chemically treated paper, thermal transfer printing works with a variety of materials, such as paper, foil, or polyester.
Features of Thermal Transfer Labels
Thermal transfer labels are durable and versatile, making them a popular choice. Here are some of the common features of thermal transfer labels: 
Material: Thermal transfer labels are compatible with a wide variety of materials. If you're looking for chemical resistance, for example, you can choose a chemical-resistant material for your TT labels. 
Color choices: While thermal transfer labels can only be printed in one color, that doesn't mean it has to be black. TT ribbons come in a variety of colors. If you're looking to color code or highlight information, for example, you can swap out the black ribbon for a different color. 
Adhesive: Thermal transfer labels come with different adhesive options. At Coast Label, our application specialists will work with you to determine the best type of adhesive for your specific application–whether that's permanent, removable, or freezer-grade adhesive. 
Compatibility: Thermal transfer labels are compatible with a variety of thermal transfer printers, such as Zebra, Sato, cab, TSC, and Datamax.
Best Uses of TT Labels
From retail to healthcare, these labels are popular in a variety of industries. Because of their longevity and durability, TT labels are best used when you need the label to last a long time. Here are some of the best uses: 
Inventory management: These labels are commonly used to label products and inventory in warehouses and retail settings. Thermal transfer labels are resistant to temperature extremes, moisture, and abrasion, so they remain readable for a long time. 
Barcode labels: The most common use of these labels is barcode labeling. Because the printed graphics or text is rendered in such high resolution, barcodes, QR codes, or data matrix codes are scannable for a long time.
Healthcare: In the healthcare industry, these labels are often used for patient ID labels, medication labels, and specimen labeling. 
Manufacturing: TT labels are used in manufacturing to identify and track products and equipment.
Shipping and logistics: Another common use of thermal transfer labels is for shipping and logistics. TT labels work well as shipping labels because they can endure the shipping process and still be legible. 
UL Certification: Many manufacturers with UL-certified products use thermal transfer labels for their UL marks because TT labels are so durable. 
Food and beverages: The food industry relies on thermal transfer labels to label packaged products with information such as the expiration date, nutritional information, and barcode. 
Asset tracking: Another common use of TT labels is to track and manage assets. Thermal transfer labels can be placed on laptops, office equipment, and other company tools. This helps keep track of expensive assets and prevent loss or theft. 
Automotive: In the automotive industry, thermal transfer labels are used to label parts, components, and products. They can withstand the demands of vehicle manufacturing and provide long-lasting identification. 
Textile and apparel: The textile industry uses thermal transfer labels for garment labels and tags, ensuring that care instructions and branding remain clear even after multiple washes.   
Libraries: Libraries use TT labels to catalog books and other materials, which ensures efficient organization and tracking.
When Not to Use TT Labels
These labels are extremely useful, but there are some cases when it's best not to use them. Here are some cases when not to use TT labels: 
Short-term labels: If you need labels for short-term use, these labels might be overkill. Direct thermal labels might be a more cost-effective choice. 
Budget concerns: Thermal transfer printing is usually more expensive initially because of the need for ribbons and specialized printers. If you have a tight budget, there are other printing methods that will cost you less. 
Quick-turnaround: If you need fast label printing with little to no setup, thermal transfer probably isn't the best choice. It's often slower with more setup compared to some other label printing methods. 
Disadvantages of Thermal Transfer
While these labels are great in many situations, they also have some disadvantages. Here are some of the disadvantages: 
Higher initial costs: Because of the specialized equipment you need to print them, there is usually a higher upfront cost compared to other printing methods. 
Ongoing costs: The ribbons used to print TT labels have to be replaced regularly, and this ongoing cost can add up. Additionally, the printhead, which heats the ribbon, can wear out and need to be replaced. Although it's more expensive than direct thermal printing, thermal transfer printing often costs less than dot matrix or laser printing.
Slower printing: TT printing is usually slower than other methods like direct thermal or laser printing. 
Complex setup: Setting up thermal transfer printers can be more complex. 
Limited color options: Because of the nature of ribbon-based printing, thermal transfer printers can only print one color at a time. If you'd like to print in red, blue, or green instead of black, you can swap out the ribbon, but you'll still only be able to print one color.
 I just wanted to say thank you for all of your help in getting the labels we needed and in such a short amount of time. Your company was able to help us where your competition had failed miserably! We will definitely be coming to you for any other label requirements we run into.