Caution Labels
At Coast Label, we understand how essential caution labels can be when it comes to keeping people safe and out of harm's way. We use only the highest-grade materials to manufacture custom caution labels. Whether you're warning of hot surfaces, caustic materials, or any other hazards, you can count on caution labels from Coast Label to stay put.
In fact, staying put is probably one of the most important functions of a caution label. Labels that peel off or tear easily put people at risk. We'll help you design caution labels specifically for the environment they'll be placed in. From high temperatures to moisture exposure, we can help you engineer durable caution labels for any environment.
Different Types of Caution Labels
Caution and warning labels have been in use in the United States since 1938 when laws were passed that mandated the labeling of food products. The goal was the increased safety of consumers, and since then, caution labels have been used effectively to warn consumers and employees alike of dangers.
Typically, caution labels are used when a mild to moderate danger is present. Some caution labels warn of dangerous chemicals, while others caution against unsafe uses of a product. In order to be effective, caution labels have to be highly visible as well as easy to read. Bright colors and pictograms are often used on caution labels to maximize their effectiveness. Some organizations, like OSHA and ANSI, have guidelines for designing caution labels, specifying colors, shapes, and the size of labels used.
Caution labels may seem simple, but they play an essential part in keeping people safe. Here are some of the most common types of caution labels:
Pinch point warnings
Risk of electric shock warnings
Hard hat required
Caution hot surface
Biological hazard
Radioactive warnings
MRI safety labels
Eye protection required
Trip hazard
Low overhead clearance
Hazardous waste
Ear protection area
Flammable material
Caution wet floor
Under maintenanc
Danger Warning Caution Labels
OSHA and ANSI mandate the placing of different kinds of labels for different kinds of hazards. The highest level of hazard requires a danger label. Danger labels indicate the severest form of danger where extra precautions must be taken because of the risk of death. The word "Danger" must be printed in white on a red background.
The next level down is a warning label. Warning labels indicate hazards that could result in death or severe injury. However, the risk isn't as high as with danger labels. Warning labels are printed in black on an orange background with the word "Warning."
Finally, caution labels are used when risk of moderate injury is present. Caution labels also warn against unsafe practices. Caution labels are printed on a yellow background with black writing and must include the word "Caution."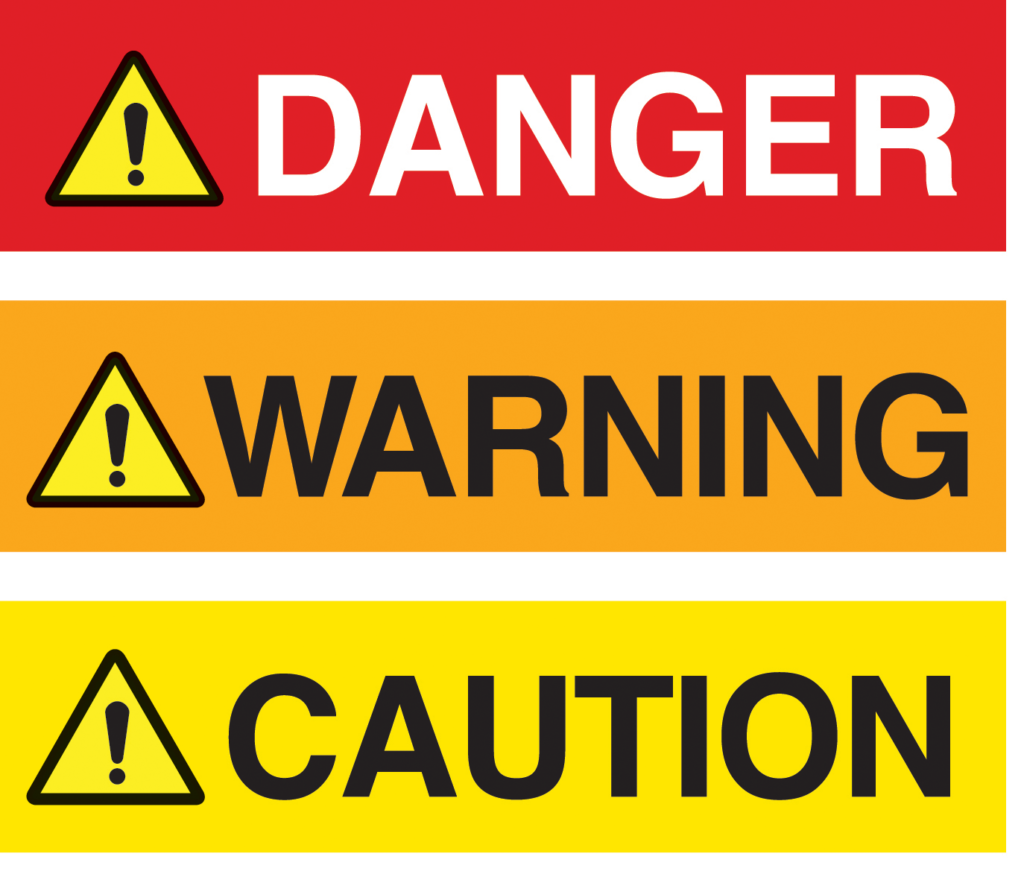 Caution Risk of Electric Shock Label
High voltage poses a major risk for serious injuries and even fatalities. The most common causes of death by electric shock include contact with overhead power lines, transformers, and electric currents within machinery. Those working in the construction industry are most at risk, but any work conditions where an electrical current presents a danger.
Even if the electric shock isn't fatal, injuries like burns and damage to the nervous system can occur. Additionally, contact with an electric current can make an individual lose control of muscles and cause them to fall.
That's why caution labels for risk of electric shock are so important. Being aware and alert of the dangers of electric shock is the first line of defense. Brightly colored Caution Risk of Electric Shock labels bring attention to potential dangers and protect employees and consumers alike. Some common uses for risk of electric shock labels include:
Labeling exposed wires
Instructing how to safely disconnect power
Instructing on distance to stay safe
Stating required clearances with overhead voltage lines
Caution Battery Labels
Batteries provide essential backup to many industries, making sure service isn't discontinued when power fails. However, batteries contain volatile materials that present unique risks. Battery acids, flammable materials, and electric currents, as well as the weight of some make batteries a possible hazard.
Caution Battery labels draw attention to the possible risks of working with batteries and can help protect against serious injuries. Some common caution labels for batteries include:
Battery charging area
Battery storage no smoking
Caution battery inside
Caution used batteries
Caution this equipment is powered by more than one source
Caution shut off battery charger before disconnecting
Battery charging instructions
Battery charging safety reminders
Caution battery no open flames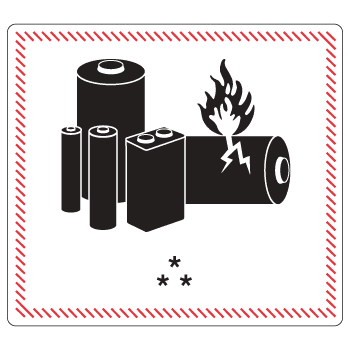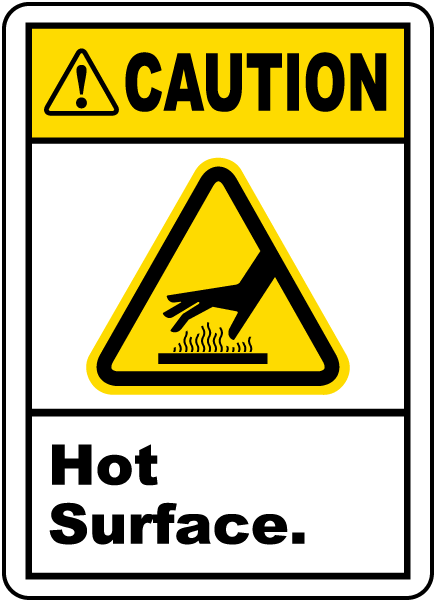 Caution Hot Surface Label
From factories to restaurants, heat is an important element in many industries. But hot surfaces pose a danger for employees who might come in contact. Caution Hot Surface labels draw attention to hot surfaces to protect employees from the risks of burns.
Hot surface caution labels might be used to mark surfaces heated by water, steam, electricity, and gas. Hot temperatures, however, add a layer of difficulty for labels. Depending on the extreme of the temperature, heat can melt adhesive and destroy the facestock of caution labels.
At Coast Label, we can help you engineer caution labels specifically for hot environments. We'll help you determine the best material as well as the best adhesive for your intended use. With a wide variety of industrial materials to choose from, you can trust your hot surface caution labels to remain in place and legible.
Custom Caution Labels
When you need custom caution labels, look no further than Coast Label. From custom sizes and shapes to colors and materials, we can help engineer caution labels that solve your unique application challenges. You'll work one-on-one with one of our application specialists to design just the right caution labels for your business.
Here are just some of the many customization choices you can make:
Shapes–from typical shapes like rectangles and triangles to something more unique, we have the equipment to manufacture caution labels in the exact shape you need.
Materials: As part of the customization process, we'll help you determine the right material for your caution labels. From vinyl to Lexan and just about anything in between, we'll help you get the right material for your labels.
Adhesives: Part of the label designing process includes choosing the right adhesive. Our application specialists can help you determine the best adhesives for your needs.
At Coast Label, we can help you engineer caution labels for whatever environment they'll be subjected to. From high temperatures to outdoor weather, we can manufacture durable caution labels to suit your needs. Contact us today for a free proposal.
 I just wanted to say thank you for all of your help in getting the labels we needed and in such a short amount of time. Your company was able to help us where your competition had failed miserably! We will definitely be coming to you for any other label requirements we run into.
Chas Wilbur

CMS Displays